Advanced Technology
Digital Dental X-Ray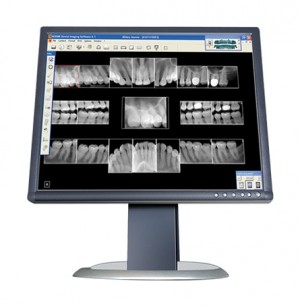 Dental X-rays have come a long way. Todays dental X-rays are safer, faster, more comfortable and more informative than the X-rays of years past. Digital X-rays, one of the latest and most advanced dental technologies, produce high-quality images of your teeth that can be viewed instantly by you and your dentist on a LCD monitor. Digital X-rays reduce radiation by up to 90% and provide exceptional diagnostic information to ensure that potential problems are caught in their earliest stages. Intraoral photography is another alternative to traditional dental X-rays. With intraoral photography, problems such as cavities, fractures and discolorations in the teeth are captured through clear and sharp photographic images that are taken with a 35mm or digital camera.
Intraoral Camera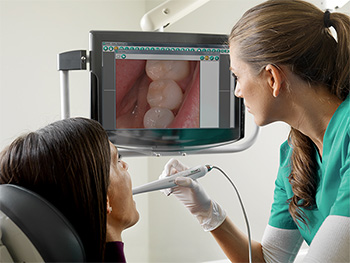 An intraoral camera is a small video camera that takes an X-ray of the outside of the gum or tooth. The intraoral camera resembles an oversized pen and is outfitted with a disposable protective sheath for each new patient.
The intraoral camera is used in tandem with a computer screen or television monitor. We can easily show you, in real-time, what we see so we can discuss it together. In the case of the intraoral camera, a picture may be worth more than a thousand words!

 
3M™ True Definition Scanner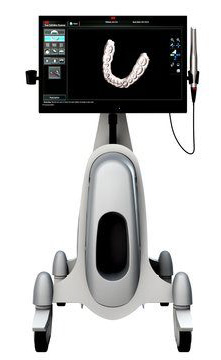 Restorations created from scans are proven to be more accurate than other leading intraoral scanners and with a better fit. Scans more comfortable and less time-consuming and there are no messy impressions to deal with. Crowns can be created more rapidly and with less chance for error. 3M™ True Definition scanning technology can give a patient a clear and precise view of their teeth and gums.  
Diagnodent
For years, traditional X-rays were the only way to diagnose cavities. While X-rays are still the most effective tool in revealing advanced decay, research shows that X-rays don't always detect cavities in their early stages.
Luckily, our office uses DIAGNOdent® — a small machine that helps us find the first signs of tooth decay. DIAGNOdent has a 90 percent accuracy rate and we can perform an exam at your regular dental visit — quickly and without any pain at all.
Late-stage cavities often require a more invasive "fix," which can be costly. With DIAGNOdent, we can find your cavities earlier, often allowing us to offer you simpler and less-expensive treatment options.
Please give us a call today to set up your next appointment or ask us about DIAGNOdent the next time you're in our office. We look forward to seeing you and helping to keep your mouth healthy and your smile bright!

 
Soft Tissue Laser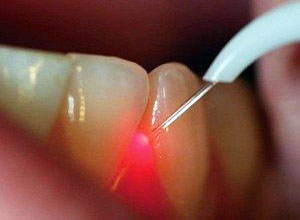 The use of lasers in dentistry possesses several advantages over the pneumatic dental drill. Aside from being able to replace the traditional drill in some cases and helping to reduce patient anxiety by eliminating its annoying sound, laser dentistry offers other tangible benefits. Safe and effective, laser dentistry is generally less painful for patients and requires no or less local anesthesia and sedation dentistry. Additionally, any discomfort following a procedure is minimized and healing times tend to be shorter with laser dentistry than with older traditional methods. With laser dentistry, patients can expect greater comfort and less time spent in the dentist's chair.